I am excited to have a guest on the blog today who knows ALL about quilt retreats!
Let me introduce you to Kiley Ferons.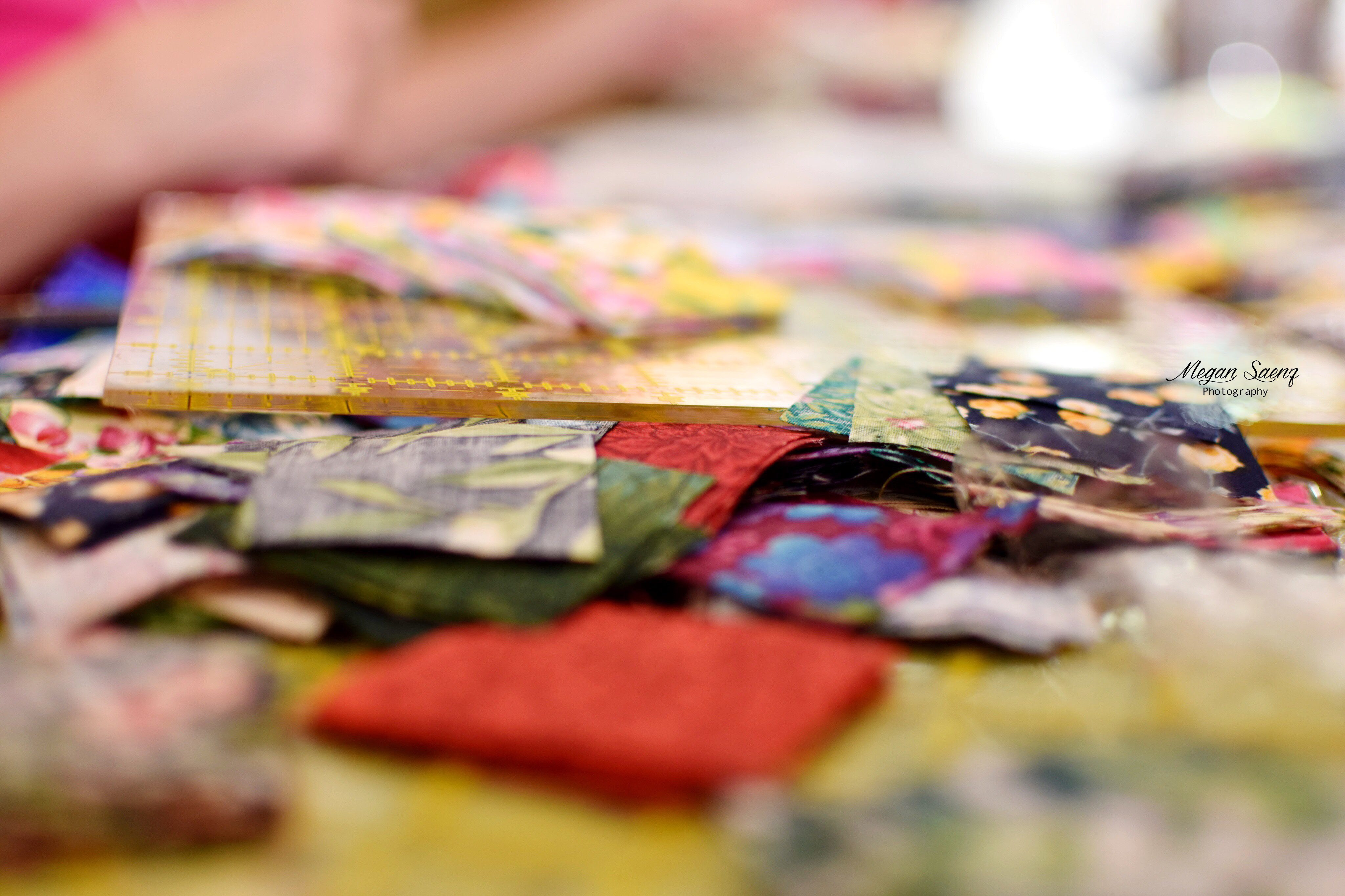 ---
INTRODUCTION
My name is Kiley Ferons, and I'm a stay at home mom of three (almost four) little minions.
I started quilting as a creative outlet 10 years ago.  5 years ago I bought a longarm machine and began quilting for others.  Then three years ago, I started an annual quilt retreat here in Harper's Ferry, West Virginia.  Needless to say, quilting has become a major part of my life for the past 10 years.
Organizing quilt retreats each year is probably one of my favorite things.  Everyone should experience a quilt retreat at least once.  There's nothing quite like getting together with other like-minded people to share your passion.
What I've learned about Quilt Retreats over the years.
What kind of Quilt Retreats are there?
There are three main types of retreats:
The first is called a "sit-and-sew" where you bring your projects and work together in a big room.  People bring WIPs (work in progress), and UFOs (unfinished projects).  Often, these retreats have show-and-tell time so you can show off each project as you go.  It's relaxing, and you get to hang out with other quilters.  Everyone works at their own pace and their own speed.
The next type of retreat is "classroom" style.  This is where a class is offered to teach new skill or pattern.  This is a great way to learn things you may not normally do on your own.  You have a teacher there to help you along the way who shares tips and tricks for that specific pattern.
The last type of retreat would be a quilt convention.  This would be Quilt Con, Paducah, AQS Quilt Festival, Etc.  These have so much to offer.  They often have vendors, classes, and quilts on display for inspiration.
What is it like at a Quilt Retreat?
Each quilt retreat is unique.  You will find that each retreat offers different places to sleep, different food options, you can go with friends you already know or plan to make new friends.
Because each location is different, you will want to look into each retreat's specifics.  I can share a bit more about what it's like where I host Quilt Retreats.
My retreat is located at the Clarion Hotel in the foothills of the Blue Ridge mountains, along the Shenandoah River.  We are just down the road from Historic Harper's Ferry, West Virginia.  When you come to a retreat here, you book a room at the Clarion Hotel and that's where you stay for the retreat.
Lodging
For meals, the hotel includes a continental breakfast.  We provide a boxed lunch each day in the ball room where we are socializing and sewing.  At night we head to town and eat dinner at one of the favorite local restaurants.
During the three day retreat, guests sew projects, learn new skills (if there is a guest instructor), work on make-and-takes, get some goodies and giveaways, and make new friends.
Retreats are one the highlights for me as a quilter.  I hope you get a chance to attend one.  There are many to choose from, but if you find this location and time of year to be a good fit for you, we would love to meet you and have you join us.  Regardless of which retreat you choose to go on, I hope you love your experience.  Hopefully what I shared here today motivated you to try a quilting retreat or attend another one if you've already gone to one.
---
I hope you get to enjoy a Quilt Retreat sometime!   Check out more of my 'Quilt Questions Answered', like in THIS BLOG POST answering all your questions on Longarm Quilting.